Walk the hallowed grounds on which both Union and Confederate soldiers marched and fought during this tumultuous period in history.

Check out the Civil War Trust battlefield pages for history articles, maps, videos, and more.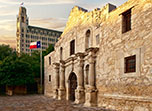 San Antonio, Texas
Boasting Gothic architecture and located in the heart of San Antonio's downtown district, the Emily Morgan Hotel exemplifies luxury accommodations coupled with the allure of historical significance. Nearby to prime locations such as the Alamo and the scenic River Walk, bask in the Hotel's inviting setting, showcasing a myriad of dining options, accommodation and event space styles, and a timeless charm.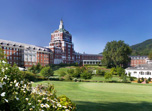 Hot Springs, Virginia
For over two and a half centuries, The Omni Homestead Resort has offered genuine Southern hospitality amid the Allegheny Mountains, boasting beautiful accommodations, championship golf courses, and an expansive conference center. A designated National Historic Landmark, this luxury resort offers modern amenities without compromising its historic charm.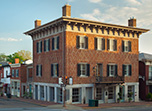 Lexington, Virginia
The Georges is an 18-room boutique inn located in the Lexington Historic District, which is listed on both the State and National register of Historic Places.
Civil War Battlefields
Your search returned 296 results.