American Queen Steamboat Company – Upper Mississippi River Cruises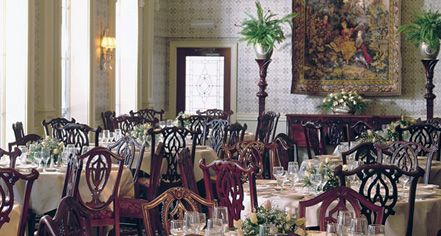 Dining
Drawing inspiration from the magnificent landscape of America, Culinary Director and renowned American chef Regina Charboneau has created a truly indulgent menu, ensuring that every meal aboard the American Queen is a memorable occasion. Celebrating the diversity of American cuisine, dining options on the magnificent steamer afford a variety of traditional and innovative dishes. From lively breakfasts to refined five-course dinners, the American Queen celebrates the culinary senses in an array of dining establishments.
Resplendent and opulent, the J.M. White Dining Saloon is an elegant dining room serving breakfasts, lunches, and dinners that are equally grand.
Open 24-hours a day, The Front Porch Café serves classic American fare that can satisfy every craving, at any time.
Offering romantic, alfresco dining by night, The River Grill & Bar serves up views as spectacular as the grilled menu and fresh salads.
Indulge in a midnight delight in the Engine Room Bar, where guests will find the delicious Moonlight Supper.
Breakfast
Early Riser Coffee - Front Porch Café
Buffet Breakfast - J.M. White Dining Room
Traditional Breakfast Service - J.M. White Dining Room
Lunch
Buffet Luncheon - J.M. White Dining Room
Traditional Luncheon - J.M. White Dining Room
Alfresco Lunch - Front Porch Café
Dinner
Traditional Dinner - J.M. White Dining Room
Alfresco Dinner - Front Porch Café
Snacks and Sandwiches
24-Hour Dining Service - Front Porch Café
Afternoon Ice Cream & Cookies - Front Porch Café
Elegant Southern Tea - Main Deck Lounge
Special Dietary Needs
The culinary staff is eager to cater to special dietary restrictions and preferences to meet the nutritional needs of every guest aboard the American Queen. Among the many, common requests include low sodium, gluten free, vegetarian, allergies, heart smart, and low calorie diets.