Castle Hotel & Spa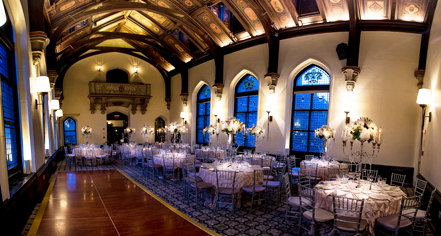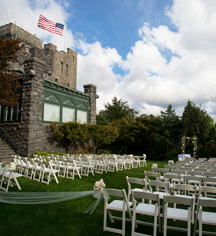 Weddings
Boasting vibrant Tiffany-style stained-glass windows, 40-foot vaulted ceilings, and crystal chandeliers, Castle Hotel & Spa lends a stunning backdrop for refined weddings and celebrations. Offering over 3,300 ft2 of romantic and dramatic event space, the castle features a beautiful and flexible setting, ideal to celebrate every joyous occasion.
The Wedding Ceremony
Affording intricate architectural details and historic structural elements, Castle Hotel & Spa ensures a memorable ceremony whether set under the stately 40-foot vaulted ceilings of the Great Hall or outdoors among the whimsical gardens. With attentive service and celebrated Auberge-style natural French cuisine Castle Hotel & Spa combines to create an unparalleled setting for a wedding ceremony.
The Reception
Immediately upon arrival at Castle Hotel & Spa, guests will be mesmerized by the view commanding the stunning gardens and magnificent Hudson River Valley. Personalized wedding specialists and an award-winning culinary team are eager to bring every wedding wish to life in a variety of distinguished event rooms. The talented culinary will work with every wedding party to create a delicious reception menu to complement the style, theme, setting, and season. Grand or intimate, a reception at Castle Hotel & Spa will truly be an unforgetable experience.
Social Events
The professional event planners and world-class culinary team can help create an exquisite event for any special occasion. Private dining and event rooms are available in a variety of styles, settings, and ambiance to enhance the occasion, party, or celebration for as few as 10 or as many as 150.