Chase Park Plaza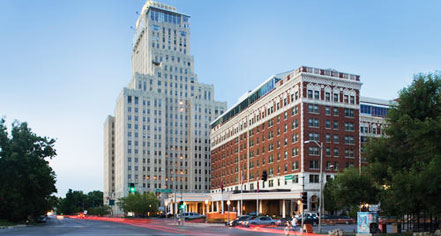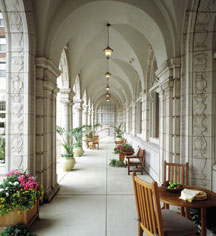 Dining
Pull out the Sunday best and comb that hair for the three of the most choice fine dining experiences in St. Louis, all located conveniently inside of the Chase Park Plaza. The ingredients are locally sourced and organic when possible, and the cuisine ranges from contemporary to traditional. Each restaurant offers a distinctive menu, all prepared with care and appealing in presentation.
Eau Bistro
The menu at the Eau Bistro uses locally grown and sustainable ingredients and as a result, the contemporary American dishes change with the seasons.
The 180-seat restaurant makes a bold statement with vibrant decor and an open-kitchen where patrons can watch as the brilliantly talented staff prepares breakfast and dinner.
The Wine Room in the Eau Bistro is also available for private events and can accommodate up to 40 guests in grace and style. The Chase Park Plaza Wine Room is ideal for dinner meetings, rehersal dinners, and other celebration. A separate private dining menu is available.
Hours of Operation:
Breakfast (menu)
Monday - Friday: 6:00 a.m. - 10:30 a.m.
Saturday: 6:00 a.m. - 11:00 a.m.
Sunday: 6:00 a.m. - 10:00 a.m. (Buffet until 9:00 a.m.)
Sunday Brunch Buffet: 10:00 a.m. - 2:00 p.m.
Dinner (menu):
Tuesday - Thursday: 5:00 p.m. - 10:00 p.m.
Friday and Saturday: 5:00 p.m. - 11:00 p.m.
CLOSED for dinner Sunday & Monday
Tenderloin Room
A landmark St. Louis restaurant, the Tenderloin Room is the pinnacle of traditional fine dining. A rich mahogany and fabric decor sets the tone of a romantic, intimate atmosphere where diners can enjoy a traditional meal that ranges from salads, fresh seafoods, and mouth-watering steaks. The high standard dishes pique the senses as they use carefully combined ingredients to create a delightful aroma and a delectable taste to create a full blown dining experience.
Hours of Operation
Lunch
Tuesday - Friday: 11:00 a.m. - 2:00 p.m.
Dinner
Nightly: 5:00 p.m. - Close
Cafe Eau
A dining spot with eclectic energy, Cafe Eau has become a popular St. Louis spot for food and nightlife. This cozy cafe includes touches like an ice bar that keeps liquid refreshments cold, and expansive bar and patio space.On Friday and Saturday nights, the space is given a shot of energy with live music starting at 9:00 PM. For larger groups of up to 16, the Harvest Table is available.
Hours of Operation
Saturday and Sunday: 10:30 a.m. - 12:00 a.m.
Monday - Saturday: Bar closes at 1:00 a.m.
Sunday: Bar closes at 12:00 a.m.
Chaser's Lounge
Located near the theater and steps away from the pool and patio, Chaser's Lounge offers patrons an intimate and sophisticated venue for drinks and appetizers. A pianist offers low key musical entertainment on select evenings.
Hours of Operation:
CLOSED Sunday and Monday
Tuesday - Thursday: 5:00 p.m. - 10:00 p.m.
Friday and Saturday 5:00 p.m. - 12:00 a.m.