Chase Park Plaza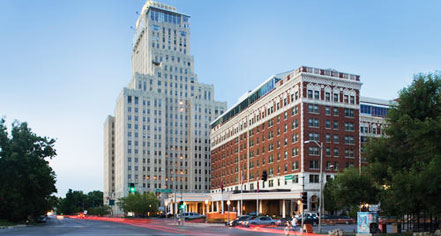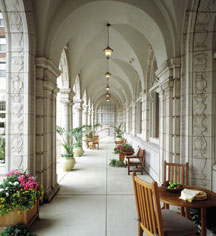 Dining
The Chase Park Plaza Hotel has three on-site dining options, each with a different atmospher and every one with delicious cuisine. Specializing in New American cuisine, the inviting Eau Bisto restaurant dazzles any sophisticated palate with fresh seafood and meats from select sources around the country. Cafe Eau is known for such defining touches as an ice bar, which keeps drinks perfectly chilled, and a diverse menu filled with eclectic creations for lunch, breakfast, and dinner. Live entertainment and patio seating make Cafe Eau one of St. Louis' most popular nightspots.
Elegance and a soothing atmosphere prevail in the Tendeloin Room, legendary for its succulent and masterfully seasoned steaks, along with fresh seafood, classic soups and salads. Chasers, the Chase Park Plaza's full-service bar, is conveniently located adjacent to the hotel's five-screen cinema, and hosts live music on Friday and Saturday evenings.
Eau Bistro's
A contemporary American menu inspired by the seasons, creating a menu with a uniquely fresh accent - enhanced by locally grown, sustainable ingredients and an international wine list.
Café Eau
Located on the south side of the main lobby, Café Eau is a dining spot with eclectic energy that has made it a popular St. Louis dining and nightlife destination.
The Tenderloin Room
The Tenderloin Room offers a traditional fine dining experience to its guests. This landmark restaurant offers lunch and dinner menus with dining options across the spectrum, including legendary steaks.