Chase Park Plaza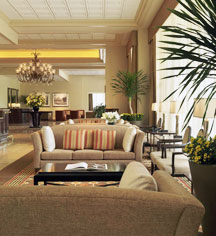 History
The Chase Park Plaza legacy started in 1922 with the elegant Chase building, built by and named for Chase Ullman. Seven years later, legendary hotelier, Sam Koplar, started construction of the Park Plaza, but the Great Depression forced the project to be delayed until 1931. During that time, Koplar served as general manager of the landmark Chase Hotel, which he eventually purchased. The property really hit its stylish stride in the 1950s - The Chase Club hosted such big band acts as Dean Martin, Frank Sinatra, Bob Hope, and Jerry Lewis. Their performances were broadcasted across the country.
An outdoor swimming pool was built where the original entrace stood, just in time for the 1956 Miss America contest - which created quite a scandal - since the "scantily" clad ladies could be seen from the street. (The "lady" now seen lounging near the pool is actually a priceless sculpture hidden from the Nazis during World War II. Koplar discovered the piece as he combed Europe for art to furnish his beloved hotel). the hanger-like Khorassan Ballroom was also built at this time, and served as annual host for the presitigious Veiled Prophet Debutant Ball. A new entrace and lobby was built, combining both the Park Plaza and the Chase. The grand corridor and lobby area were given a sleek new '50s look - the ornate columns were covered with wood veneer and the ceilings were lowered with acousitcal tile. Marble floors then considered "out-of-style", were covered with carpet. The Tenderloin Room, an elegant Victorian-style fine dining establishment, opened at this time.
The Koplar family sold the hotel in 1982, at which time the Park Plaza became and exclusive apartment building with beautiful original millwork, terraces, soaring two-story windows, and a winding staircase. But, by 1989, the Chase, which had continued to operate as a hotel, had fallen into a state of disrepair and neglect. In 1991, the Chase had become an eyesore, frequented by vagrants and the homeless. A plan was put forth by a group of investors and renovations started in 1997. While renovating the lobby adjacent to the pool, an ornate plaster ceiling was discovered when the dropped-ceiling was removed. A company specializing in the restoration of such architecture was brought out of retirement to complete the project. The Starlight Roof was the first public space to re-open in March of 1999. The Chase Park Plaza Cinemas opening in May. By Labor Day, guests occupied the first newly refurbished heritage accommodations.