Colcord Hotel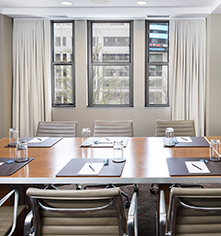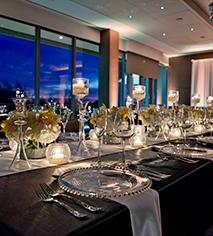 Meetings & Groups
The Colcord Hotel presents its visitors with a variety of meeting and event spaces, all waiting to be arranged and designed by their professional coordinators for any type of get-together, from business lunches to elegant weddings. With four distinct venues, each guest can find the quintessential space to hold their meeting or event.

Perfect for presentations, meetings, lunches, dinners, weddings and receptions, The Garden boasts a drop down screen and projector and provides easy access to and from both the Devon Tower and the Colcord. Ideal for indoor and outdoor events, such as wedding receptions, formal dinners, large lunches and corporate meetings, The Terrace includes a glass-walled patio and a matchless view of the Myriad Botanical Gardens. State-of-the-art technologies are afforded, including a drop-down screen and rolling project cart. Perfect for gatherings with smaller parties, including meetings, showers, birthday parties, weddings, and receptions, The Sullivan features exquisite downtown views and welcomes in plenty of natural light. Crafted exclusively for board meetings and small-plated lunches or dinners, The Wright has a 42" Plasma TV and offers the most intimate seating of each of the event spaces.
Garden
Size: 1,320 sq ft
Max capacity: 60
Terrace
Size: 2,400 sq ft
Max capacity: 140
Sullivan
Size: 1,325 sq ft
Max capacity: 50
Wright
Size: 504
Max capacity: 20
All rooms are equipped with multi-media capabilities.