Cranwell Spa and Golf Resort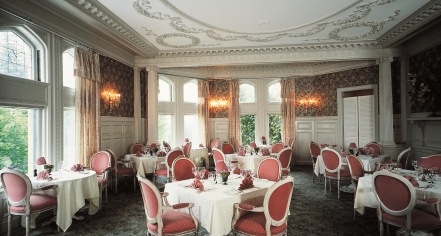 Dining
Cranwell Spa and Golf Resort offers a wide swath of dining options, all offering fresh ingredients, locally sourced whenever possible, and supporting neighboring family farms. These Berkshire restaurants are renowned not only throughout Lenox, MA, but nationally for its memorable, picturesque mountain views and top-notch, award-wininng American Classic cuisine. Dining patrons can enjoy atmospheres from casual to intimate.
Mansion Dining
Let the majestic mountain views soothe tired eyes while indulging in award-winning American Classic Cuisine in this Gilded Age mansion. Dining at the Mansion presents a few different options:
Wyndhurst and Music Room restaurants provide cuisine with smashing presentation and breakfast selections with a complete a la carte menu respectively.
Pre-theater dinner is served and the Music Room Lounge serves as a meeting place for post-theater activities and provides a light menu of desserts, international coffees, dessert wines, and after-dinner drinks for those feeling nosh-y or wanting to unwind with a fine beverage.
Sloane's Tavern
A casual Berkshire dining experience without the suite and tie. Sloane's Tavern serves up a menu of soups, salads, specialty burgers, and grilled entrees overlooking the golf course. Take-out menus are available for poolside dining.
The Spa Cafe
Healthy and nutritious eats are served while guests relax and release toxins from their bodies.
Rose Terrace
Located on the south end of the Gilded Age Mansion, guests can enjoy breakfast and sunset cocktails while taking in the panoramic mountain views.
Capitol Steps at Cranwell
Guests can eat, drink, and guffaw at the ridiculousness of political landscapes in this satirical show featuring song parodies with the nationally acclaimed Capitol Steps. Performances are July 3 - August 31, 2015 and shows are nightly excluding Tuesdays. The show is 90 minutes long and tickets are $45 per person.