Cranwell Spa and Golf Resort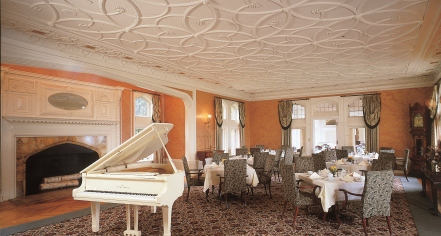 History
During the Gilded Age, which lasted from approximately 1865 - 1901, the nation's wealthiest individuals, such as George Westinghouse and Andrew Carnegie, were drawn to the clear mountain air, pristine hills, valleys, and lakes of The Berkshires in Massachusetts. These wealthy individuls built "cottages" which, in reality, were large, palatial estates. Unfortunately, many of these estates did not stand the test of time, but a few remain and are open for viewing.
In 1853, Henry Ward Beecher, the minister of Plymouth Congregational Church in Brooklyn, purchased land in The Berkshires known as Blossom Hill where he and his family summered and where the Cranwell Mansion now stands. He paid $4,500 for the property and his sister, Harriet Beecher Stowe, writer of the the novel, Uncle Tom's Cabin, inherited the mansion after the Reverend passed away.
In 1869, General John F. Rathbone purchased the estate and moved Beecher's farmhouse to the side of the hill so that the new home would have a commanding view of the countryside. This home was to be known as Wyndhurst, enormous and opulent by any standards of the day.
Meanwhile, at the back of the hill, another family was also building their own enormous cottage. U.S. Naval Captain, John S. Barnes, Flag Officer of the North Atlantic Fleet during the Civil War, purchased the land for $10,000 in 1882 and thus, erected Coldbrooke, an estate now known as Beecher's Cottage.
John Sloane, a relative of the Vanderbilts and co-owner of the famous furniture firm, W & J Sloane, became the next owner when he built his cottage in 1894. After tearing down Rathbone's Wyndhurst, Sloane constructed another Wyndhurst, which rivaled the enormity and elegance of the first. He also commissioned Frederick Law Olmsted, the landscape architect responsible for creating Central Park, to design the grounds.
This new Wyndhurst stands on the hill today. After a brief stint as the Berkshire Hunt and Country Club in the 1920s, Edward Cranwell deeded the estate to the Society of Jesus of New England to be turned into a private school for boys named after the generous benefactor. After prospering for many years, the school slipped into decline, closing its doors in 1975. It was converted into a luxury resort and country club in 1993. In 2002 the 35,000-square-foot Spa at Cranwell opened with state-of-the-art facilities, offering over 50 services.

Cranwell Spa and Golf Resort, a member of Historic Hotels of America since 2000, dates back to 1894.
*****
Guest Historian Series
Read more about the history of Cranwell Spa and Golf Resort, as told by Historic Hotels of America 2014 and 2015 Historian of the Year Stanley Turkel. Excerpt is taken from his latest book Built to Last: 100+ Year-Old Hotels East of the Mississippi (AuthorHouse 2013).