Grand Hotel Marriott Resort, Golf Club & Spa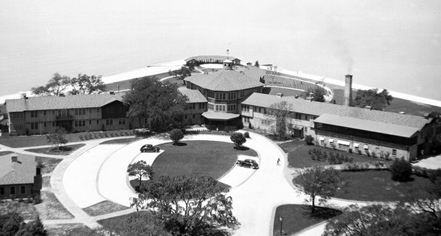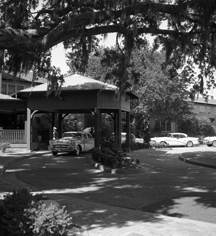 History
The Grand Hotel Marriott Resort, Golf Club & Spa has a long and storied military history. This historical Alabama hotel, located in the town of Point Clear, was originally built over 160 years ago, in 1847. At the time the hotel had only two floors and just 40 guestrooms. Original guests arrived by steamboat and docked at what is now the marina.
During the Civil War the hotel began its military ties. As the South was one of the remaining Confederate strongholds during the Civil War, the port in Mobile was a popular spot for blockade runners. During the infamous 1864 battle between the Confederates and Union, led by Admiral Farragut - in which he famously proclaimed "damn the torpedoes, full speed ahead" - the confederates bombarded the Union soldiers with torpedoes, eventually sinking the Tecumseh.
Yet, Admiral Farragut did not give up and eventually the Union forced Fort Morgan to surrender and then took over the Mobile port, closing it to blockade runners. In fact, Farragut fired upon the Grand Hotel. A large hole was found in the wall of the Gunnison House, located on the site of the Convention Center today. Despite all this, the city of Mobile remained in Confederate hands until 1865. It was during this time that the hotel was turned into a base hospital for Confederate soldiers. It was guarded by the 21st Alabama Infantry.
300 Confederate soldiers died while at the hospital, and are buried on the on-site cemetery, Confederate Rest. The soldiers were buried shoulder-to-shoulder, in mass graves. In 1869 a fire destroyed the documents that identified the deceased and a monument to the unknown was later constructed at the cemetery, which still stands today.
After the Civil War the hotel returned to business as normal - until World War II. In 1944, the then owner of the Grand Hotel turned over the property to the Army Air Force for use as its Maritime Training School under the guidance of Colonel Thompson. The basic seamanship, marine, and aquatic training became known as Operation Ivory Soap.
Everyone who lived on the property at this time followed strict "Navy style" rules. All floors were referred to as decks, for example, and men kept time by a ship's bell. Courses taught on the property included swimming, signaling, ship orientation, sail making, amphibious operations, and more. In total, 5,000 Army Air Force servicemen were trained at the Grand Hotel.
Today the hotel continues to honor the military influence. Each day a processional begins at the lobby, weaves around the grounds, and concludes with the firing of a cannon at 4:00 p.m.
*****
Guest Historian Series
Read more about the history of the Grand Hotel Marriott Resort, Golf Club & Spa, as told by Historic Hotels of America 2014 and 2015 Historian of the Year Stanley Turkel. Excerpt is taken from his latest book Built to Last: 100+ Year-Old Hotels East of the Mississippi (AuthorHouse 2013).