Green Park Inn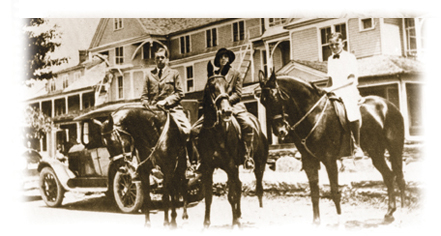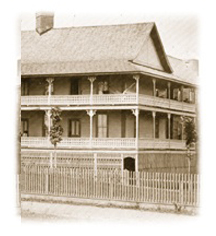 History
The legend of Blowing Rock goes back to the days when the Cherokee and Catawa Native American tribes roamed the land. The story goes, two star-crossed lovers, one from each tribe were walking near the Rock. Their respective tribes were hostile towards one another, but that didn't stop these two young lovers even when the sky reddened to signal to the young man that he must return to his tribal duty. The young maiden urged him to stay with her. He was so wrought with indecision, he threw himself off of the edge of the gorge toward the rocks below. The maiden cried out to the Great Spirit to bring him back to her. The famous winds of John's River Gorge then blew her lover back into her arms.
The anomaly of the rock formation, the wind currents at Johns River Gorge cause the winds to blow vertically, causing light objects, such as snow to float upwards.
The historic Green Park Inn, opened in 1891, was planned and built by the Green Park Company, a syndicate of three businessmen from Lenior, North Carolina that was led by Civil War veteran Major George Washington Finley Harper. The hotel is situated close to the site of Stoneman's Raid, the infamous Civil War battle.
When it opened, Green Park Inn was the most luxurious hotel in Blowing Rock and in all of the High Country, and included a ballroom, billiard room, bowling alleys, telegraph, and a post office. Each room contained a complete system of "waterworks" and guests were served water from a mountain spring at the headwaters of the Yadkin River, which is still located on the hotel grounds. Much of the hotel's public areas still contain original hardwood flooring of heart pine, which is nearly extinct, while the original historic sections of the property are constructed of American Chestnut, which is extinct.
The hotel sits astride the Eastern Continental Divide with its tavern aptly named The Divide.
Throughout the decades and generations, this Grand Dame property has hosted such historic and memorable figures as Presidents Coolidge and Hoover; First Lady Eleanor Roosevelt; John D. Rockefeller; author Margaret Mitchell, who penned a portion of "Gone With the Wind" while a guest; and celebrities including Marilyn Monroe, Henry Fonda, and Jimmy Stewart. Many Statesmen and Captain of Industry have spent their evenings together after dinner, over cigars and brandy, within the hotel's stately surrounds, contemplating the issues of the day.
In mid-2010, new ownership undertook a major restoration of Green Park Inn that included substantial repairs and upgrades to the building's infrastructure systems, numerous structural, architectural repairs, and completely refurnished the hotel with the addition of modern amenities, including building-wide wireless Internet acess and flat-screen televisions. Ninety percent of the hotel's new furnishings were made in the United States, many in nearby Lenior or High Point, in what used to be the furniture capital of the country, in North Carolina.