Historic Hotels of Lake Geneva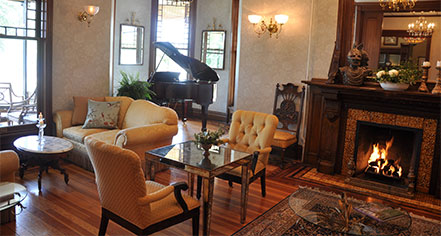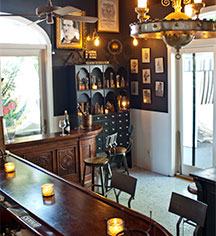 Dining
Welcome to a world of Gilded Age living where the decadently furnished parlors are the back-drop to your next great experience. Guests are entertained throughout the first floor of the Baker House on plush wing backed chairs and overstuffed couches with beautiful views of Geneva Lake from every Parlor. Select a beautiful vintage hat from the collection hanging in the halls, and travel back in time with us for a unique and entertaining experience. Dress code is, "We're dressed up so you don't have to be!" While we do appreciate swimming attire, we ask that guests don garments more befitting the environment. Winter Service is Cocktail Lounge, from September through May. Summer Service is Tapas and Light Appetizers, in addition to the Cocktail Lounge, from late May through August.
Saturday Afternoon Tea & Historic House Tour at 2:00 p.m.
Lauded by USA Today as the area's Most Beautiful Restaurant, the Baker House brings an afternoon of Victorian tea and Gilded Age living overlooking scenic Lake Geneva. Enjoy hand-select teas and a bountiful selection of savory and sweet delights prepared by the in-house pastry chef. The Victorian dressed staff guides guests through a historic journey, sharing the story of this beautifully restored Nationally Registered Historic Property along with Victorian antidotes of "Tea & History." Includes Historic Home Tour, Tea & Tower of Delectable Treats.
Sunday Champagne Brunch from 9:30 a.m. – 2:00 p.m.
Unlimited flowing champagne, Eggs Benedict made to order, signature French toast, and all the traditional breakfast delights of an omelet station, bacon, sausage, potatoes, biscuits and gravy, and fresh fruit. There is also a broad array of lunch entrees that include succulent home-made crab cakes, the most divine chicken and dumplings this side of Dixie, fresh salads, and delicious desserts.
Historic Mansion & Garden Lounge
Enjoy the beautiful architecture and luxe surroundings overlooking Geneva Lake while indulging in classic cocktails or an excellent bottle of wine