Hotel Settles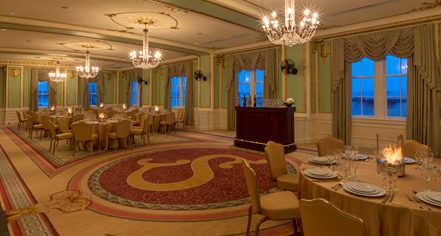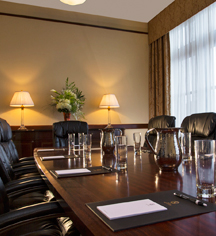 Meetings & Groups
The Grand Ballroom has been lovingly restored to its 1930s opulence, and with more than 2,700 ft2 available, the room can be set up in multiple event layouts.
Mezzanine Lobby can accommodate up to 310 guests and is located on the second floor outside the Grand Ballroom. The Mezzanine Lobby overlooks the hotel lobby from the Grand Staircase, and is the perfect space for an event or cocktail reception.
Cosden Meeting Room is located on the Mezzanine floor and features large framed windows overlooking the skyline.
Texas & Pacific Meeting Room is located on the mezzanine floor offering large framed windows overlooking the skyline and an attached kitchen area.
Birdwell Conference Room, located on the second floor, is a stately boardroom offering 493 ft2, boasting an executive conference table and plush leather chairs.The Birdwell Conference Room can accommodate up to 14 people.
Judge's Chamber is located in the basement with access from the elevators or Pharmacy Bar & parlor staircase. It features soft seating, a poker/game table, shuffleboard, darts, and a cigar smoke evacuation system.
Pool Pavilion is an open-air space, which can be enclosed in inclement weather. Located on the ground level and overlooks the swimming pool and spa, fountains, and gardens, The Pool Pavilion is an intimate space to create an exclusive setting to guests. It is designed to complement the building's exterior and pool spaces, and offers stone flooring.
The Sunset Terrace Suite consists of an indoor parlor with an adjoining outdoor terrace, and is located on the western end of the fourth floor. There are two Terrace Suites available on this floor, with the other on the opposite side of the building called the Sunrise Suite.
Capacity Chart


Area
(sq2)
Banquet
Reception
Classroom
Theater
Grand Ballroom
2,784
225
290
185
300
Mezzanine Lobby
3093
310
Cosden
1003
80
110
70
110
Texas & Pacific
1046
80
110
70
110
Judge's Chamber
510
40
50
30
50
Pool Pavilion
900
70
100
60
100
Sunset Terrace Suite
(Terrace and Parlor)
1200
100
Sunset Terrace Suite
(Terrace only)
800
85
* All rooms are set up for wired or wireless Internet access with audiovisual capabilities.