Inn at Willow Grove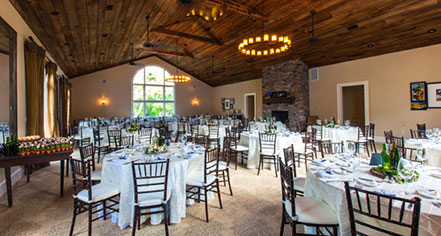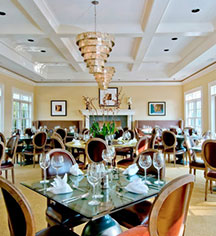 Meetings & Groups
The Inn at Willow Grove believes a corporate retreat is more than just meetings. It is a getaway, a special experience that brings a group together and is memorable for years to come. The Events Team will help to coordinate arrangements for the group, regardless of size. With a wide range of meeting and break-out spaces to accommodate a busy and productive work day, luxurious accommodations with any number hotels and bed & breakfasts within a 10-mile radius for larger groups, and a wide range of historic attractions, award-winning vineyards, and breathtaking countryside for spouses, entertainment and team-building activities, the Inn at Willow Grove offers any number of opportunities for groups ranging in size from 14 to 100 to enjoy a multi-day getaway without going far away.
The Hall
Located adjacent to the Manor House, the Hall is an elegant, intimate private dining room decorated with the same chic and artful flair found in the Inn's rooms and suites. With a coffered ceiling, modern zinc tables and custom chocolate leather chairs, the Hall is surrounded on all sides by French doors leading to the gardens and slate porches, is awash with sunshine and features panoramic views of both the gardens and the pastoral Virginia countryside. In stormier weather, the Hall is just as lovely; against one wall, guests can find a grand gas fireplace that infuses the room with warmth and charm. Meetings for groups up to 50 can be held in the Hall. The Events Team can assist to arrange the room in any number of configurations to accommodate the needs of the event, including one round table in the center of the room, one large rectangular conference-style table, or in a U-shape for presentations and group discussions. The Hall is equipped with surround-sound speakers, complimentary WiFi access, customizable lighting, and a dedicated restroom. Events in the Hall have access to the surrounding slate patio, the adjoining fire pit, and the beautiful gardens directly outside.
The Barn and Ruins
An amazingly versatile and unique venue, the Barn and Ruins offer 6,400 combined square feet of indoor/outdoor space. Clad with custom stonework and painted a signature red, the Barn is a picture of rustic charm. Inside, this state of the art 3,100 square foot space is exquisite with soaring reclaimed wood ceilings, grand Palladian windows framing beautiful wooded views and a massive stone fireplace. Using 60-inch rounds, pintuck linens and chiviari chairs, the Barn can be arranged in crescent rounds around a stage or presentation display, in group tables, or in any number of other configurations to suit the needs of the event. French double doors leading out to a 400 square foot veranda infuse the room with light and provide added outdoor space for registration tables, refreshments, break-time, or seating. The adjacent Ruins are the remains of the stone foundation of an antique bank barn building. The walls were recently rebuilt by hand to form a beautiful 3,300 square foot open-air space, perfect for convention-style booths, additional displays, or lunch al-fresco.
The Chef's Table
A private dining room at the garden-level of the Manor House, the Chef's Table in Vintage Restaurant is an incredibly unique venue that can comfortably accommodate up to 18 people. The Chef's Table enjoys a special connection to the kitchen through tinted glass-paned windows and yet is quiet, private, and incredibly charming. The Chef Table's glass-topped zinc tables can be arranged according to preferences as four separate seating configurations or as one long banquet-style table. The Chef's Table accesses a private garden with two fire pits through four sun-drenched double French doors, perfect for break time.
Breakout Spaces
In addition to the larger meeting venues, the Inn at Willow Grove's many smaller spaces, such as the Chef's Table in Vintage Restaurant, the Library and Salon in the Manor House, and the Sun Room in the Pub, can easily accommodate breakout sessions and small group workshops. The Events Team will help to designate space for smaller sessions based upon group size.

Group Value Dates
January 1-31, 2018
February 1-28