InterContinental Chicago Magnificent Mile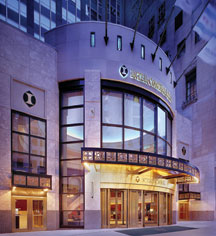 History
Finished in 1929, on the cusp of the Great Depression, The InterContinental Chicago Magnificent Mile began as the Medinah Athletic Club, an exclusive luxury men's club for members of the Chicago Shriners. Four years after the building's opening, the Shrine Organization filed for bankruptcy protection and forfeited ownership of the Medinah Athletic Club a year later.
In 1944, the Medinah Athletic Club would change its name and purpose. The Continental Hotel and Town Club would play host to many celebrities, including actress and swimmer Esther Williams. Acquired by Sheraton, in 1961, The Continental Hotel and Town Club expanded to include a second tower that would stretch the northern boundary all the way to Grand Avenue.
The hotel operated until 1986, when it closed its doors in anticipation of extensive renovation. By 1988, InterContinental Hotels and Resorts had purchased the property and set to restoring the building to its original grandeur.
Aided by a yearbook from a former Medinah Club member, the hotel was restored to its former glory and opened in spring of 1990. The North Tower had opened a year earlier as a separate property called the Forum Hotel, though the two still shared some back-of-the-house facilities.
One decade later, the two properties would be reunited and attached during a second renovation.