Keswick Hall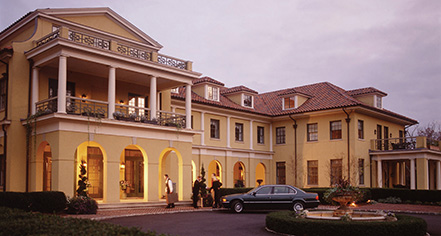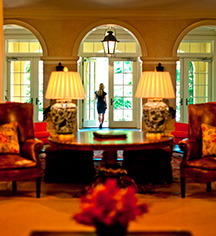 Overview
No other world-class destination melds the equestrian lifestyle, winemaking, and American history quite like Keswick Hall. The 600-acre, 48-guestroom resort at the foothills of the Blue Ridge Mountains impresses visitors time and again with its deeply rooted and illustrious past, and a vibrant Forbes Five Star award-winning present; both are witnessed daily in casual subtleties and stately traditions.
Rich and enduring in every way, history has a life of its own here. The fact that former presidents Thomas Jefferson, James Madison, and James Monroe had homes within a short distance of Keswick Hall speaks of the region's legendary past. Villa Crawford, the original private residence and now the historic wing of the hotel, has its own fascinating story, of its families and guests who rode horses, played croquet, strolled through the gardens, and dined luxuriously there. Decades later, guests can experience the highest standards of service and amenities in a setting that is also exceedingly comfortable, befitting the caliber of its traditions.
Keswick Hall begs to be discovered from a round of golf, discovering the natural beauty of Virginia, or in any number of recreational pursuits such as archery, fly fishing, and exploring local wineries.

Keswick Hall, a member of Historic Hotels of America since 2015, dates back to 1912.
The 1981 romantic comedy, The Four Seasons, starring Alan Alda and Carol Burnett was partially filmed at Villa Crawford.
Original Property Opened: 1912
Historic Hotels of America toll-free reservations number +1 800 678 8946

Location
701 Club Drive
Charlottesville, VA 22947

Check-in time: 4:00 p.m.
Check-out time: 11:00 a.m.




Hotel Amenities & Policies
Accessible Rooms: Two accessible rooms are available. Please notify request at time of booking.
Adjoining Rooms: Two sets of interior and five sets of exterior adjoining rooms are available. Please contact hotel to reserve.
Age Requirements: Guests are required to be 21 years or older with photo identification to reserve a room and check-in.
Airport Transportation: No shuttle is provided by the hotel; please contact concierge to arrange transportation through outside service.
Cancellation Policy: Cancellations must be made 7 days prior to arrival.
Cribs and Pack-in-Plays: Available upon request; complimentary.
Deposit: No deposit required.
Early Check-In/Late Check-Out: Both are available subject to availability. Early check-in is complimentary, late check-out fee is $100 until 3:00 p.m., at which point a half day rate is charged.
Extra Person Fees: Extra-person charges may apply.
Hotel/Resort Fees & Taxes: Resort fee of $37 plus tax per room, per day includes pool access, spa, fitness center, valet parking, and various other amenities. All reservations may be subject to a 10.3% tax.
Occupancy Restrictions: Varies by room type. Rooms accommodate between 2 and 4 guests.
Parking: Self-parking: Available; complimentary. Valet parking: Available; complimentary.
Payment: All forms of payment are accepted. Payment is required at time of booking. Visa, MasterCard, Amex, and Discover are accepted.
Pet Policy: Service animals allowed: Yes. Pets allowed: Yes. Restrictions: Maximum amount: 2 pets per room. Fees: $75 (nonrefundable cleaning per pet, per stay). Other: Extreme or wild animals are not authorized. Service animals for blind or otherwise disabled are exempt from site exclusions.
Rollaways: Available upon request; $50 per night plus tax.
Smoking Policy: Non-smoking property.
The above list may not be comprehensive and information is subject to change without notice. Fees and deposits may not include tax. Taxes, fees, deposits, and policies are subject to change without notice.
Image Credit: ©Rashad Ashurov/Shutterstock
Turn of the Century, 1896 ~ 1913
No other world-class destination melds the equestrian lifestyle, winemaking, and American history quite like Keswick Hall.
Learn more about the History of Keswick Hall .