Mansions on Fifth Hotel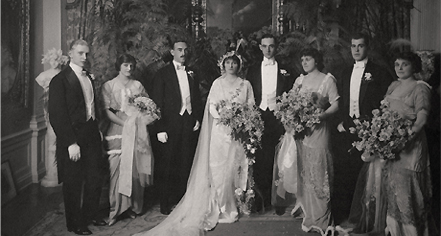 History
Willis F. McCook commissioned the design and construction of the McCook Mansion in the early 1900's as home for his family, which included his wife Mary and ten children. An industrialist and one of the nation's first corporate lawyers, McCook was Henry Clay Frick's attorney, representing him in Frick's celebrated fight with Andrew Carnegie.
When his oldest daughter Bessie became engaged, McCook commissioned the adjacent McCook Reed Mansion, which was completed in 1905, a year ahead of the larger McCook Mansion.
Both the McCook Mansion and the McCook-Reed Mansion were built in the Elizabethan revivalist and Tudor styles. Together, the two comprise what is now the Mansions on Fifth, a luxury hotel.
The McCook Estate was designed by architects Carpenter and Crocker and built by Thomas Reilly, who also built St. Paul's Cathedral. Utilizing the best craftsmen of the time, Wollaeger Manufacturing (woodmakers), Master Ironworker Cyril Colnik, and Rudy Brothers Art Glass.
Both mansions shine with luminescent art glass windows, hand-painted or hand-crafted tile work, and carved woodwork that depict motifs, scenes, and heraldic ornament reminiscent of the manor houses of the British Empire.
MILLIONAIRES ROW
The Mansions on Fifth are the last among the grand mansions of Pittsburgh's storied "Millionaire's Row", home to many great turn-of-the-century industrialists and financiers.
Heralded as the most expensive construction project of its day, the McCook Mansion cost less than $300,000 to build in 1906 – just a fraction of the cost of the estate's restoration and modernization a century later.