Omni Parker House, Boston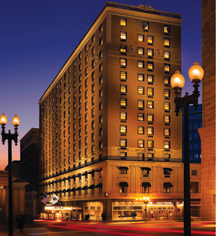 Dining
The Omni Parker House features three dining options each with a unique ambiance carrying on the culinary heritage. Both the Boston cream pie and delectable Parker House rolls were created on property in the 19th century, much to the delight of guests. Since then, the property has welcomed guests for exquisite cuisine that is simply unforgettable.
Parker's Bar
A mahogany and stained-glass haven that once served as a thousand-volume library now serves cocktails and light fare every evening.
The Last Hurrah
Boston's most famous political bar and pub, The Last Hurrah, overlooks the Freedom Trail and serves classic cordials and contemporary cocktails including the Boston Cream Pie martini.
In-Room Dining
Enjoy New England cuisine in the privacy of your accommodations 24-hours a day.
Boston Cream Pie
The custard-filled cake with chocolate frosting – now the official state dessert of Massachusetts – got its start at Parker's Restaurant at Boston's Omni Parker House in 1856. So did soft, buttery Parker House Rolls, whose recipe was kept secret until 1933 when U.S. President Franklin Roosevelt requested they be served at a White House Dinner.