Palace Hotel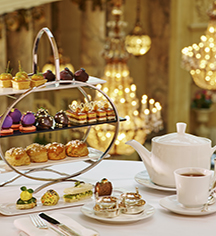 Calendar of Events
Events for September 2016
Afternoon Tea

From Mar/24/2012 to Dec/24/2016

An undeniable part of San Francisco's history, the famed Garden Court offers superb dining experience in what is heralded as one of the world's most beautiful public spaces. The glorious glass-domed atrium hosts an enchanting Saturday Afternoon Tea each weekend.

Historic Tour

From Sep/10/2016 to Sep/10/2106

Gather the family and take a tour of San Francisco's most historic hotel. Originally established in 1875, the Palace is an icon that has fun and fabulous stories hiding around every corner. Saturdays at 5:00 p.m. Reservations are required. Sign up at sfpalace.com.