Plaza Hotel 1882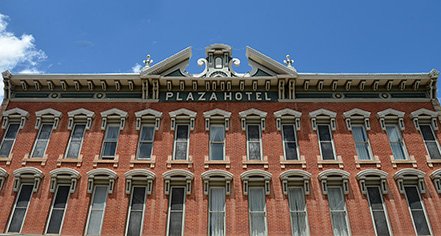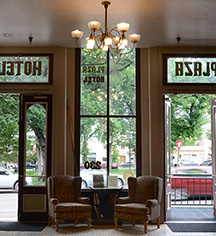 Overview
Plaza Hotel 1882 is considered one of the finest hotels in the Territory of New Mexico. This three-story Victorian masterpiece, constructed in 1882, has an intricately decorated Italianate brick façade, nine foot windows with ornate pediments, all capped by an elaborate baroque cornice. In 2006, the hotel expanded to include the neighboring Ilfeld Great Emporium, built in 1891.

Together, these two historic properties offer 67 spacious and enjoyable guestrooms, many featuring soaring 14 foot ceilings and fabulous views of Plaza Park. The delightful onsite restaurant, Gilded Age, serves a locavore menu of traditional Spanish and Victorian fare. Plaza Saloon is the place to relax and socialize, enjoy a glass of wine or craft beer, and listen to live music. With over 6,000 square feet of meeting and event space, the historic Plaza Hotel, laced with history and an unmatched feeling of the Old West, provides the perfect setting for an unforgettable western wedding, family reunion, or gathering.

The Plaza Hotel is listed in the National Register of Historic Places as a contributing property in the Las Vegas Plaza historic district. Due in part to its distinct historic presence, the hotel has been the backdrop for many movies, including Joel and Ethan Coen's Academy Award Best Picture winner, No Country for Old Men. This exceptional combination of history, style, and location has led the Plaza Hotel to be nicknamed the "Belle of the Southwest."
The Plaza Hotel's Victorian lobby and long staircase was the setting for a pivotal scene in No Country for Old Men between Javier Bardem, who won Best Supporting Actor for the role, and Woody Harrelson.
Original Property Opened: 1882
Historic Hotels of America toll-free reservations number +1 800 678 8946

Location
230 Plaza Street
Las Vegas, New Mexico 87701

Check-in time: 11:00 a.m.
Check-out time: 11:00 a.m.



Image Credit: ©Rashad Ashurov/Shutterstock
The Gilded Age, 1866 ~ 1895
Plaza Hotel 1882 is considered one of the finest hotels in the Territory of New Mexico. This three-story Victorian masterpiece, constructed in 1882, has an intricately decorated Italianate brick façade, nine foot windows with ornate pediments, all capped by an elaborate baroque cornice.
Learn more about the History of Plaza Hotel 1882 .