Skirvin Hilton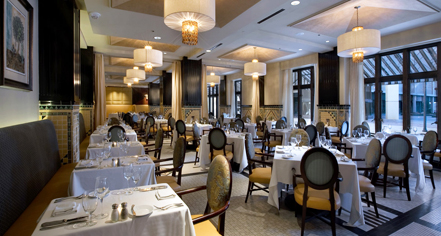 Dining
While situated on opposite ends of the lobby, the two Skirvin Hilton's acclaimed dining establishments, Red Piano Lounge and Park Avenue Grill, afford delicious cuisine, warm service, and lively entertainment.
Park Avenue Grill
Truly a special Oklahoma City dining experience, Park Avenue Grill showcases its rich heritage and charm through a fusion of traditional and modernized American classics prepared by Executive Chef Christopher Pope. Lending a refined comfort, Park Avenue Grill is a destination restaurant pleasing patrons with its classic setting and satisfying menu.
A Park Avenue Grill institution, Brunch on Broadway is hosted every Sunday featuring brunch classics and live music with guitarist Edgar Cruz. The restaurant will host special brunch buffet events with festive menus throughout the year, including during Thanksgiving, Easter, Christmas, and Mother's Day.
Red Piano Lounge
Enjoy crisp cocktails, premium beers, and a wide selection of wines in the relaxed luxury of The Red Piano Lounge. Featuring the namesake instrument, a red piano, this casually elegant establishment serves a classic American steak and seafood menu and offers live entertainment Tuesday through Saturday. A popular happy hour is hosted daily from 4:30 PM to 6:30 PM.
TableOne
A unique private gastronomical experience, TableOne treats its diners to an exclusive view overlooking the Park Avenue Grill kitchen, offering a new perspective of the chef's table. At TableOne, Executive Chef Christopher Pope personally serves the intimate special guest parties of 2-8 with a formal multi-course dinner served and wine pairings.