The Bishop's Lodge Resort & Spa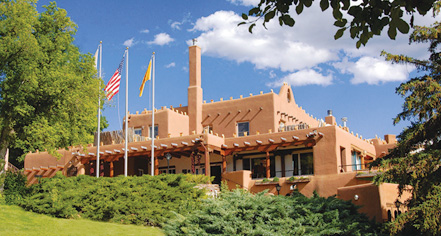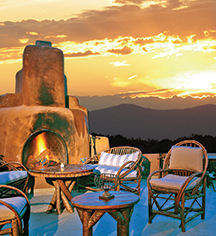 Overview
The Bishop's Lodge Ranch Resort & Spa provides guests with the complete Santa Fe experience. A 450 acre resort nestled in the Tesuque Valley just three miles from the Plaza downtown, providing exceptional dining, award-winning spa, and on-site recreational activities such as horseback riding, skeet and trap, tennis, hiking and mountain biking on our trails which connect to the Santa Fe National Forest directly behind the resort.

Santa Fe is a truly unique destination which tops nearly everyone's "Must See" list. From the times of the Anasazi to today, Santa Fe is a crossroads, with diverse influences from Native American, to Spanish Conquistadors to Mexican and European civilizations which remain vital and relevant in the cultural fabric today.

The Central Plaza of Santa Fe stands largely unchanged from our founding 400 years ago and the times of the Santa Fe Trail. The consistent character of the unique adobe architecture of the city is central to our landscape and represents yet anther link to our vibrant past.

The Santa Fe Railroad opened-up the territory to a wider audience and exposed the dramatic landscapes and spectacular vistas of the high desert to an eager public. Santa Fe soon became the art mecca of the Southwest and helped to bring Georgia O'Keefe and Ansel Adams into national prominence.

The Bishop's Lodge played an important role in the history of the city as the residence of the Southwest Diocese's first and most influential Archbishop, Jean Baptiste Lamy. Archbishop Lamy chose this spot to build his residence and a small chapel surrounded by gardens. This quaint, historic chapel still stands at the heart of the Resort and is listed on the National Historic Register. The grounds planted by Bishop Lamy surrounding his residence are still used as heirloom gardens for the Las Fuentes restaurant today.

After Lamy's death, the Catholic Church sold the estate in 1915 to the Pulitzer family who made it their private retreat for their two daughters who would come to Santa Fe to escape the heat and humidity of the east coast summers. James Thorpe, a wealthy mining executive from Denver, bought the property from the Pulitzers to create a vacation resort which he christened "The Bishop's Lodge."

For nearly a century our mission has been to preserve the Thorpe's vision/legacy of providing traditional hospitality so that our guests can truly experience the magic of Santa Fe. We invite you to our picturesque valley at the foot of the Sangre de Cristo Mountains to enjoy the unsurpassed scenic beauty, wonderful climate and unique history of our spectacular/stunning destination.


Click here to watch a video about The Bishop's Lodge Resort & Spa.

Contact Information:
1297 Bishop's Lodge Rd
Santa Fe, NM 87504

Historic Hotels of America toll-free reservations number (800) 678-8946