The Chanler at Cliff Walk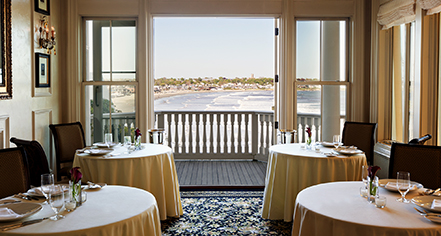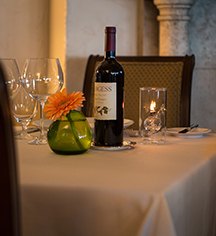 Spiced Pear
The Spiced Pear's primary dining room features an open-air kitchen, grand fireplace, and views of the Atlantic Ocean and Easton's Beach. Well known for its signature 'New England Prix Fixe', the restaurant features a symphony of six or nine courses of local New England fare each night in addition to an a la carte menu featuring Continental Cuisine.

Breakfast and Lunch are also served in the main dining room each day and features signature items such as Spiced Pear French Toast for breakfast or the award-winning GQ Burger for lunch – rated the 4th best burger to try before you die from the editors of GQ Magazine.

For breakfast and lunch, resort casual attire is appropriate. For dinner service, we recommend business casual attire (men may feel more comfortable with a jacket). Reservations are required for dinner service.
The Bar
The Bar of the Spiced Pear offers an elegant, yet smart atmosphere. With several signature drinks, including our famous Spiced Pear Martini and The Cliff Hanger, it is the perfect location for an afternoon or before-dinner drink, or the last nightcap before turning in for the evening.

The Bar also features a Spiced Pear-inspired lighter fare menu for appetizers and light meals. Each Friday night, The Bar also serves as the location for 'Friday Night Jazz', the hotel's live music series, popular with guests of the hotel and the local community.