The Chateau at Oregon Caves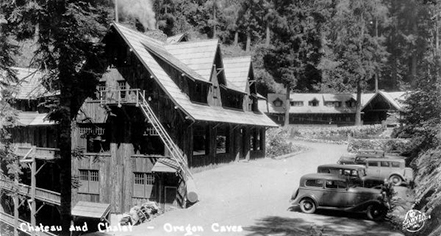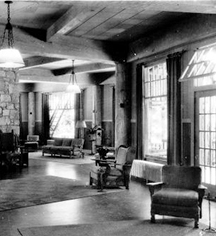 History
In 1934, The Chateau at Oregon Caves was built and designed by local contractor Gust Lium, in Oregon Caves National Monument in southern Oregon, near Cave Junction, utilizing local, natural materials. The Chateau was part of a larger development that included a chalet, several employee and rental cottages, and a visitor's center, all constructed between 1923 and 1941.
Boasting National Park Service Rustic style architecture, this six-story Chateau was constructed in a marble canyon across a steep ravine and makes exceptional use of the land's natural contours. The building even accommodates part of the flow from nearby Cave Creek that is diverted into an artificial stream bed that runs through the dining room.
Originally designed with an exterior siding of shaggy Port Orford Cedar bark that remains intact today, the Chateau was built to highlight its landscape evident by the extensive rock work and its shed- and dormer-style roofs that mimic the surrounding mountains.
The Chateau's interior also maintains its rustic design, highlighted by 30-inch-diameter log posts supporting the open beam ceilings, dark paneled walls, the grand staircase made of pine log stringers, maple steps, and balustrades of madrone, and the marble double-sided fireplace showcased in the lobby. In addition, a 1930s-style coffee shop on the courtyard level is still in original condition, with original maple counters and chrome and vinyl swivel stools.
Today, The Chateau at Oregon Caves remains a charming rustic destination, offering a comforting sense of place that the builders and landscape architects created in the early 20th century.
The Chateau at Oregon Caves was declared a National Historic Landmark on May 28, 1987.
The View-Master
William Gruber, a piano tuner and hobby stereo photographer, went to the Oregon Caves National Monument on a photography excursion in 1938. He was already toying with the idea of updating the 19th century stereoscope, using Kodachrome color slide film.
At the Chateau, Gruber met Harold Graves, president of Sawyer's Photographic Services and a fellow camera buff. By the next morning, they had made a deal to produce a new handheld stereo-viewing device, the View-Master, to show color images. It was introduced in Portland, Oregon in 1939, but didn't catch on nationally until it appeared at the 1940 New York World's Fair.
Now owned by Fisher-Price, the View-Master,has played an integral part of American cultural, including its use for training reels by the United States military during World War II. Today, this nostalgic novelty remains popular among kids of all ages.

Chateau at Oregon Caves, a member of Historic Hotels of America since 2015, dates back to 1934.