The Emily Morgan San Antonio - a DoubleTree by Hilton Hotel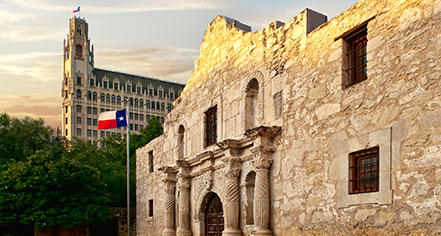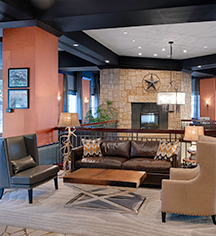 Overview
The Emily Morgan San Antonio - a DoubleTree by Hilton Hotel, otherwise known as "The Official Hotel of the Alamo," boasts a congenial atmosphere, classic Gothic architecture, and scenic views of the surrounding downtown landscape. Originally constructed in 1924 by famed architect Ralph Cameron, the hotel features 177 fully-renovated guestrooms, ample amenities, a 24-hour fitness center, a heated outdoor pool, and much more under its gilded copper roof. The hotel is only steps away from the Alamo, a recently designated World Heritage Site by the UNESCO
Dine at the property's one-of-a-kind ORO Restaurant & Bar, featuring elevated Southwestern cuisine, or take a stroll to its plentiful nearby attractions, from the sprawling Alamo and its garden, to the San Antonio River Walk featuring restaurants and shops, to the Majestic Theatre, recognized as a National Historic Landmark, now featuring symphony and theater performances. With an endless array of sights to visit, travelers can immerse themselves within the historical Texan atmosphere that surrounds them housed at this 13-story architectural wonder.
The property's namesake, Emily Morgan, is said to be the inspiration for the famous ballad "The Yellow Rose of Texas."
Original Property Opened: 1924
Historic Hotels of America toll-free reservations number (800) 678-8946

Location
705 E. Houston Street
San Antonio, Texas 78205

Check-in time: 4:00 p.m.
Check-out time: 12:00 p.m.



Hotel Amenities & Policies
Adjoining Rooms: Ten (10) adjoining rooms available.
Age Requirements: Guests are required to be 18 years or older with photo identification to reserve a room and check-in.
Airport: The closest airport is San Antonio International Airport: 8 mi / 13 km, 12 minutes.
ATM: On property.
Cancellation Policy: Cancellations must be made 24 hours prior to arrival.
Cribs and Pack-in-Plays: Based on availability.
Extra Person Fees: $10 per person.
Handicap Accessible Rooms: Eight (8) handicap accessible rooms are available. Please notify request at time of booking.
Hotel/Resort Fees & Taxes: 16.75% county, city, and state tax.
Rollaways: Based on availability.
Occupancy Restrictions: Maximum 3 per King room; 5 per Double rooms.
Parking: Valet parking for $35 plus tax per night.
Payment:Visa, MasterCard, American Express, Discover, and cash are accepted.
Pet Policy: Pets under 50 lbs., $50 non-refundable fee.
Smoking Policy: 100% non-smoking property.
The above list may not be comprehensive and information is subject to change without notice. Fees and deposits may not include tax. Taxes, fees, deposits, and policies are subject to change without notice.
Image Credit: ©Rashad Ashurov/Shutterstock
The Jazz Age, 1919 ~ 1928
The Emily Morgan San Antonio - a DoubleTree by Hilton Hotel, otherwise known as "The Official Hotel of the Alamo," boasts a congenial atmosphere, classic Gothic architecture, and scenic views of the surrounding downtown landscape.
Learn more about the History of The Emily Morgan San Antonio - a DoubleTree by Hilton Hotel .