The Fairmont Hotel San Francisco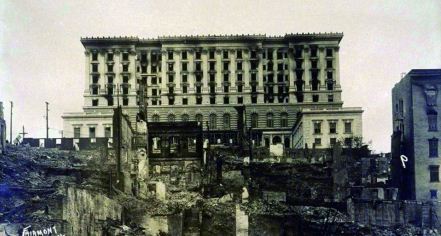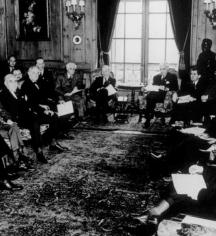 History
In the beginning, the earth shook... The Fairmont San Francisco was not yet open, but the massive structure was already completed and its interior furnishings had been delivered and were awaiting installation in this palace on Nob Hill. After the famous earthquake on April 18, 1906, the Fairmont still stood, looking relatively unharmed (although there was some structural damage to the interior). Fires that raged after the earthquake soon claimed much of the structure.

Julia Morgan, the first female graduate of the prestigious E'cole des Beaux Arts in Paris who would later become the nation's preeminent female architect, was recruited to work on the Fairmont. Exactly one year after the quake, the Fairmont Hotel re-opened and soon the property became the social hub of the city. During the next several decades the hotel shifted ownership several times, until the early 1940s, when the lethargy inspired by the Great Depression eventually dragged the Fairmont into a state of benign neglect.

But once again, the Fairmont rose from the ashes. At the end of World War II two events served to transform the property: the International Conference, which led to the birth of the United Nations (the UN Charter was signed in the Fairmont in 1945) and the purchase of the hotel by Benjamin Swig, an East Coast businessman who "had a knack for seeing a good thing and turning it around." He hired decorator Dorothy Draper, who visualized the hotel as a copy of a grand Venetian palace but at the same time wished to capture the charm of San Francisco and to transform the Fairmont into the center jewel in the crown of the Golden Age of San Francisco.

The refurbished Venetian Room's grand opening as San Francisco's premier Supper Club took place in 1947 and for decades the room would attract big-name entertainers like Ella Fitzgerald, Nat King Cole, Marlene Dietrich, Joel Grey, Bobby Short, Vic Damone and James Brown. But the Venetian Room is perhaps most famous as the place where Tony Bennett first sang "I Left My Heart in San Francisco." The Cirque Room--the first bar to open in San Fran following prohibition--is also inside the Fairmont. It was decorated by architect Tim Pflueger in a beautiful Art-Deco style with an incredible bar and murals by the celebrated Bruton sisters. Before the Venetian Room opened, the Cirque was the place to go for entertainment in the city.

In November of 1961 another section opened: the 23-story tower, designed by Mario Gaidano. San Francisco's first glass elevator carried people to the Crown Room at the top. A recent $85 million restoration elevated the entire property to its present-day status, transforming the historic building into simply the best that San Francisco has to offer. From its 530 guest rooms, 61 suites and world-famous penthouse to the Tonga Room and Laurel Court, the recent restoration serves as the most opulent rebirth yet.