The Heathman Hotel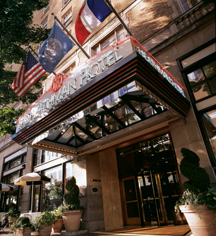 Overview
The Heathman Hotel is a downtown landmark, built in the late 1920s in the popular Italian Renaissance style. Then, as now, the hotel was a popular center of cultural activity. Its dramatic public spaces have been renovated in grand Art Deco style and provide the perfect backdrop for the hotel's extensive collection of artwork.

A prominent supporter of the city's cultural and fine arts community, it is adjacent to the Portland Center for the Performing Arts and is attached to the Arlene Schnitzer Concert Hall. The hotel's ties to the arts run deep and for years it has sponsored "Give to the Arts, Even in Your Sleep," a program which donates a portion of the hotel's weekend revenue to local arts organizations. Many of the hotel's guest rooms feature views of the "Traveler's Song" mural, a 9-foot high work by artist Henk Pander that was commissioned to adorn the interior wall of the attached concert hall.

As the only hotel in the city's designated Cultural District, the Heathman is truly a place where "service is still an art."
The Heathman's latest artistic commitment is a themed guestroom that pays tribute to Andy Warhol.
Original Property Opened: 1927
Historic Hotels of America toll-free reservations number +1 800 678 8946

Location
1001 SW Broadway
Portland, OR 97205

Check-in time: 4:00 p.m.
Check-out time: 12:00 p.m.



Hotel Amenities & Policies
Accessible Rooms: Accessible rooms are available. Please notify request at time of booking.
Adjoining Rooms: Adjoining rooms are available. Please notify request at time of booking.
Age Requirements: Guests are required to be 21 years or older with photo identification to reserve a room and check-in.
Airport Transportation: May be arranged through the hotel's concierge, rates apply.
Cribs and Pack-in-Plays: Available upon request.
Early Check-In/Late Check-Out: Available, depending upon availability.
Extra Person Fees: Extra-person charges may apply and vary depending on property policy.
Parking: Valet parking: $44.
Payment: All forms of payment are accepted. Payment is required at time of booking. Visa, MasterCard, Amex, Diners Club, JCB, and Discover are accepted.
Pet Policy: Service animals allowed: Yes. Pets allowed: Yes. Dogs and Cats. Fee: Yes. Dog: Ambassador: Zelda.
Rollaways: Not Available.
Transportation: Transportation, including Limousine and Town Car Service, may be arranged through the concierge; rates apply.
The above list may not be comprehensive and information is subject to change without notice. Fees and deposits may not include tax. Taxes, fees, deposits, and policies are subject to change without notice.
Image Credit: ©Rashad Ashurov/Shutterstock
The Jazz Age, 1919 ~ 1928
The Heathman Hotel is a downtown landmark, built in the late 1920s in the popular Italian Renaissance style. Then, as now, the hotel was a popular center of cultural activity. Its dramatic public spaces have been renovated in grand Art Deco style and provide the perfect backdrop for the hotel's extensive collection of artwork.
Learn more about the History of The Heathman Hotel .