The Heathman Hotel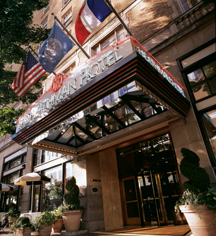 Signature Suites
The Signature Suites at the Heathman are not only a uniquely themed, luxurious indulgence for the guest, but a portion of the revenue generated from the rooms will be donated to community out-reach programs and non-profits throughout Portland. The Heathland Hotel is truly a fine example of giving back to its community. Not only is it a building rich in history, but it has progressed to be an active member of the community at large. The Signature Suites at the Heathman were designed by Bluevine Studio, Inc., that maintains core values of sustainability.
Literary Arts Suite
A partnership with the Heathman Hotel and the Literary Arts of Oregon and the Arts and Lecture Series. Complete with a deeply lofted leather couch and the smell of old books, the essence of professors, authors, and academics give the room a certain intellectual feel. A portion of the revenue for this room will be donated to the many literary non-profits across Portland.
Portland Center Stage Suite
In celebration of the theater arts in Portland, this Heathman Hotel suite comes complete with handmade costumes and revenue generated from this room goes to Portland Center Stage educationand community outreach programs.
Fine Arts Suite
This suite emphasizes the property's dedication to the art. The design influences and fixtures in this room are by top local artists in addition to works added by famed filmmaker Gus Van Sant. The revenue from this room will be donated to the Pacific Northwest College of Art.(PNCA)
Oregon Symphony Suite
The Oregon Symphony is the oldest symphony in the western United States. It's been going for more than 100 years. The melodic scheme of this room is centered around a cello sculpture with gingko leafed branches emerging for the body. This dichotomy embraces the inspiration of the natural beauty of the Pacific Northwest. Revenue from this room will benefit Symphony's Kids Education Missions.