The Inn at Diamond Cove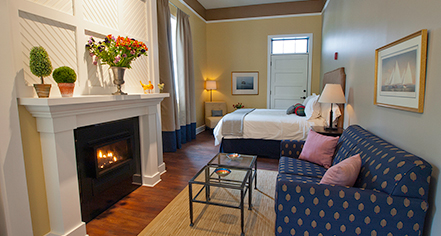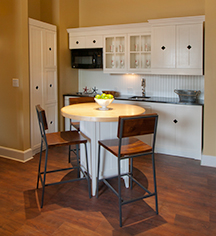 Accommodations
The Inn at Diamond Cove offers the comforts of home with touches of luxury. Featuring 44 spacious guestrooms and suites, this historic Portland, Maine hotel is designed to include a balcony, a fireplace, and spacious sitting areas in its accommodations.
Guestrooms
The Inn at Diamond Cove includes 10 guestrooms and 12 king parlor rooms. Two guestrooms feature a fireplace for breezy Portland, Maine nights. Many of the rooms include a balcony to take in the spectacular views.
Suites
This Casco Bay boutique hotel includes 22 one- and two-bedroom suites with separate sitting areas with a fireplace and a pull-out sofa. The Inn at Diamond Cove invites guests to make themselves at home in their suites with a full kitchen with burner top stoves, a refrigerator, microwave, sink, dishwasher, cookware, and a dining table to enjoy the fruits of the kitchen labor.