The Inn at Diamond Cove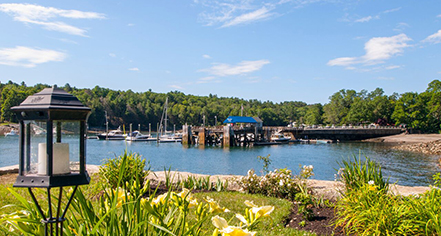 History
In the late 19th century, developer E.G.P. Smith purchased land in the south of Great Diamond Island to be turned into a summer community. The land was divided into lots and the lots were cited for residential construction only - no business would be allowed construction here. Artists, most notably, American literary heroes Henry Wadsworth Longfellow and Harriet Beecher Stowe, took up residency at the artists retreat.
By 1890, 61 cottages had been constructed and the northern half of the island was acquired by the United States Government, who then used the land to build a military base known as Fort McKinley. The citizens in the south of Great Diamond Island co-existed peacefully with the populartion of the military base and many marriages resulted from the interaction between north and south.
The base of Fort McKinley was pivotal during the Spanish-American War from 1898-1902. Between 1891 and 1943, roughly three dozen tactical buildings were erected along with mining casements, batteries, observation stations, telephone switchboard buildings, and storehouses. Following World War II and the development of air war tactics, the island fort defense system was obsolete and thus, abandoned.
For decades, the structures remained neglected and as a result, left to decay when the fort was finally restored to its original elegance in the 20th century. Officers' quarters and barracks have all been restored and turned into beautiful homes with grand staircases and fireplaces.
Diamond Cove is listed in the National Register of Historic Places and is now a year-round community of historic homes and waterfront properties. In 2013, while work was being done to renovate old Army Barracks, a terrible fire destroyed the building. The Inn at Diamond Cove has reopened in May 2015 after being reconstructed to preserve the original character of the structure to the most meticulous of specifications while still offering guests luxury and simple elegance.

The Inn at Diamond Cove, a member of Historic Hotels of America since 2016, dates back to 1891.