Experience Historic Hotels of America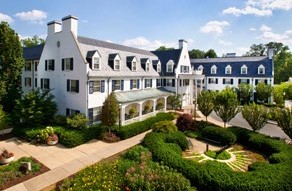 Pennsylvania Pride
On the campus of Pennsylvania State University is The Nittany Lion Inn (1931) in State College. Close to Washington, D.C., Philadelphia, and Harrisburg The Nittany Lion Inn is an AAA Four Diamond hotel in the heart of Happy Valley. Experience the best of Central Pennsylvania at the bountiful farmer's markets and at historic sites like Fort Roberdeau and the Bellefonte Historical Railroad Society. The Nittany Lion Inn features a colonial country atmosphere and has two 18-hole PGA-rated golf courses. The Dining Room restaurant at The Nittany Lion Inn specializes in American dishes and has won the Wine Spectator Award of Excellence every year since 2002. Noted leaders and celebrities such as Presidents Eisenhower and Johnson, Eleanor Roosevelt, Helen Hayes, and Louis Armstrong have all enjoyed staying at the hotel Explore the Allegheny Mountains, hike Mount Nittany, catch a game at Beaver Stadium, and explore the Palmer Museum of Art during your stay at the Nittany Lion Inn. Rates starting at $129 per night weekends and weekdays July through October. Book Now.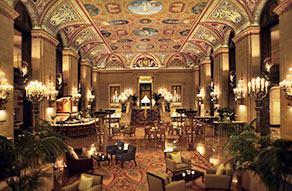 Chicago Architecture
From Frank Gehry's Pritzker Pavilion in Millennium Park to Frank Lloyd Wright's Robie House, Chicago's architecture is remarkable. Discover Chicago's architecture and history from these three hotels with 15 top packages. Chicago introduced the skyscraper to the world in 1885 and architects such as Daniel Burnham and Louis Sullivan developed the world famous Chicago School of Architecture. See architectural highlights such as the Monadnock Building, the Rookery, the Marquette Building, and the Kluczynski Building. Enjoy the ornate swimming pool at the InterContinental Chicago Magnificent Mile (1929), an engineering marvel visited often by the "Tarzan" star and Olympic gold-medalist Johnny Weissmuller. During your stay at The Palmer House Hilton (1873), visit the Art Institute of Chicago and historic Navy Pier. The Palmer House Hilton features Louis Comfort Tiffany glass masterpieces and a striking ceiling fresco by French muralist Louis Pierre Rigal depicting Greek mythology. Located in the heart of Chicago's vivacious Gold Coast neighborhood and just steps away from Michigan Avenue, The Talbott Hotel (1927) was built to convey the romance and grandeur of an English manor. Book Now.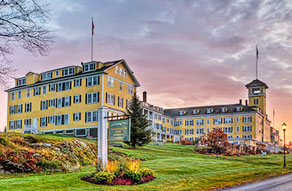 Romantic Getaway to New Hampshire
Find endless activities at the Mountain View Grand Resort & Spa (1865) such as golf on a historic course from 1900, tennis, swimming, fly fishing, and evening campfires in the magnificent White Mountains. Visit nearby attractions such as Lancaster Village and Mount Washington State Park, taste Fuller's Sugarhouse's authentic New Hampshire maple syrup, and experience a moose tour in the town of Gorham. Enjoy local products from the resort's working farm and dine at the three distinct dining venues. The AAA Four Diamond menu at the Wine Cellar features a wine collection of 6,500 bottles from around the world. Relax after exploring the region at the Mountain View Grand Tower Spa with panoramic views of the White Mountains and a wide range of services for any occasion. Book the Romantic Getaway Package which includes a welcome bottle of champagne and choco