The National Hotel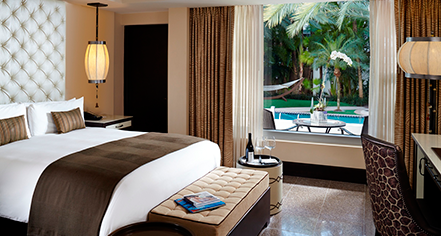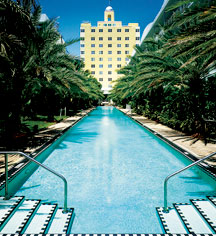 Overview
Enter a classic era of grace, elegance and style at National Hotel Miami Beach, an authentically restored Art Deco landmark that epitomizes the mood and décor of the 1940's, redefined with a modern panache.
Designed by Roy France, one of the period's foremost architects, National Hotel was one of the grandest luxury hotels on Miami Beach when it opened in 1940. In 1997, new owners and management restored and reopened the hotel, which today stands as an Art Deco treasure in the heart of South Beach's Art Deco Historical District.
Many original furnishings can be seen throughout the hotel, such as re-upholstered "barrel" chairs in the lounge and lobby, polished chrome light fixtures illuminating public areas and the terrazzo flooring in the Martini Room cigar bar. Particularly notable are the massive oak bar that serves as the centerpiece of the hotel's Blues Bar and the original carpeting and chandelier which were lovingly restored and modernized, located in the National's ballroom, the Oval Room.
Where original fixtures or design could not be used, the owners worked within the theme. An intricate mosaic was commissioned and comprised of thousands of tiny tiles patterned after a 1921 painting entitled, "Girl with Gloves" by Tamara de Lempicka, a celebrated Art Deco artist and the venerated patroness of the hotel, for the hotel's French fusion restaurant, Tamara's atrium ceiling. Authentic Art Deco antiques were hand-picked to enhance existing adornments along with specially designed and installed railings along the mezzanine, to mirror in the precise manner of those found in the hotel's original architecture plans. Also maintaining the original Art Deco style of the guest rooms, the hotel received custom-made furniture, or its original dark wood furnishings in the Historic Tower were refinished. Paying homage to Art Deco streamlined shapes and lines the hotel's 205-foot-long palm-lined infinity pool was created, renowned for being the longest pool on Miami Beach. A classic icon of style and impeccable service, National Hotel stands as a proud landmark in the heart of South Beach's historic Art Deco District.

The National Hotel, a member of Historic Hotels of America since 2010, dates back to 1939.
A marble compass in front of the 205-foot infinity pool points to the National Hotel in Cuba.



Original Property Opened: 1939
Historic Hotels of America toll-free reservations number +1 800 678 8946

Location
1677 Collins Ave
Miami Beach, FL 33139

Check-in time: 4:00 p.m.
Check-out time: 11:00 a.m.



Hotel Amenities & Policies
Accessible Rooms: Accessible rooms are available. Please notify request at time of booking.
Adjoining Rooms: Adjoining rooms are subject to availability. Please notify request at time of booking.
Age Requirements: Guests are required to be 21 years or older with photo identification to reserve a room and check-in.
Airport Transportation: None provided by hotel.
ATM
Cancellation Policy: Please contact hotel for details.
Cribs and Pack-in-Plays: Available upon request; complimentary.
Deposit: Credit card guarantee required at check-in for incidentals.
Early Check-In/Late Check-Out: Subject to availability. Please contact hotel.
Extra Person Fees: Extra-person charges may apply and vary depending on property policy.
Hotel/Resort Fees & Taxes: Accommodations are subject to a resort fee of $28.50 per day. Resort fee covers pool access, beach access, towels, fitness center, business center, and other amenities. All reservations may be subject to additional city or state taxes.
Occupancy Restrictions: Varies by room type.
Parking: Self-parking: Not available. Valet parking: Available; $40 per night.
Payment: All forms of payment are accepted. Payment is required at time of booking. Visa, MasterCard, Amex, Diners Club International, and Discover are accepted.
Pet Policy: Service animals allowed: Yes. Pets allowed: Yes. Services: Pet-sitting. Restrictions: Maximum weight: 25 lbs. Fees: $150.
Rollaways: Available upon request; $35 per night.
Smoking Policy: Non-smoking property.
Transportation: Limo or town car service available; arrange with hotel concierge.
The above list may not be comprehensive and information is subject to change without notice. Fees and deposits may not include tax. Taxes, fees, deposits, and policies are subject to change without notice.
Image Credit: ©Rashad Ashurov/Shutterstock
WWII, 1939 ~ 1945
Enter a classic era of grace, elegance and style at National Hotel Miami Beach, an authentically restored Art Deco landmark that epitomizes the mood and décor of the 1940's, redefined with a modern panache.
Learn more about the History of The National Hotel .