The Raleigh Miami Beach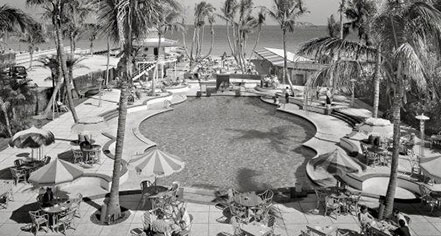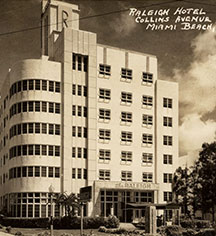 History
In 1940, when The Raleigh Miami Beach was built, Franklin Delano Roosevelt was fireside chatting, Winston Churchill was delivering some of modern history's best speeches, and John Lennon was about to be born. It was a pre-war boom in Miami Beach, when Americans were discovering that the pleasures of the islands could be enjoyed with less money and less travel to Florida. Between 1940 and 1942 was a period called "Boom over Miami," where 41 hotels comprising 2,789 rooms were built.
The Raleigh was one of many projects of famed architect L. Murray Dixon, one of the principals of the Art Deco movement. After training in New York during the 1920's, Dixon moved to Miami Beach and began designing buildings and hotels with his unique and cutting edge style. He also designed The Grossinger (The Ritz Plaza), The Atlantis, The Tides, and The Victor. The Raleigh was built by the Shore Corp. in 1940 for $250,000.
The hotel was a staple in South Beach almost immediately. During World War II, the war administration took advantage of its great location and housed troops within the hotel. After the war, it was briefly a kosher hotel and the ballroom was used as a synagogue, until it reverted back to its original style.
Among the many claims to fame is The Raleigh's unique and iconic pool - Life magazine called it "the most beautiful pool in America" in 1947. The pool's curvy, three-foot-deep moat outline was made famous by swimmer and actress Esther Williams, serving as a backdrop for her movies, including Million Dollar Mermaid (1952). Quite possibly the most photographed pool in the world, this dazzling venue is perfect for hosting parties and celebrations, including the Mercedes Benz Swim Week.

While decades have come and gone, trends have ebbed and flowed, and The Raleigh has undergone a few facelifts (this is South Beach, after all), the commitment to maintain an unprecedented level of hospitality and share the unspoiled charms of Miami Beach with guests have stood the test of time. To this day, The Raleigh remains a favorite among locals, celebrities looking for anonymity, and guests with an appreciation for impeccable design and warm and friendly hospitality. The Raleigh Miami Beach boasts a history of over 75 years right in the heart of the Art Deco district.

The Raleigh Miami Beach, a member of Historic Hotels of America since 2016, dates back to 1940.