The Royal Hawaiian, A Luxury Collection Resort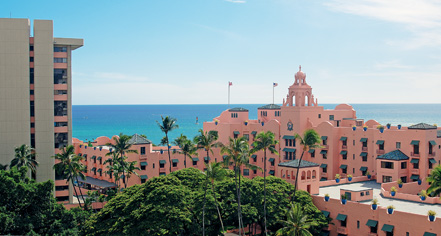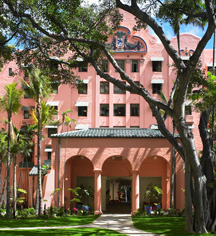 Overview
Timeless Waikiki
Receive $50 Off Your Next Trip to Hawaii

Use HistoricHotels.org to book a two-night stay or longer at The Royal Hawaiian, A Luxury Collection Resort or the Moana Surfrider, A Westin Resort & Spa and receive a $50 refund.

Subject to availability and advance reservation. Bookings must be made on HistoricHotels.org. This promotion expires June 30, 2014 and you must travel by December 31, 2014. Please allow up to eight weeks to receive the refund.

Book Now
From its opening in 1927, The Royal Hawaiian, a Luxury Collection Resort has been recognized as an icon of luxury resort travel. Known to the world as "The Pink Palace of the Pacific," The Royal Hawaiian is a lifestyle destination, mirroring the quiet confidence and impeccable standards expected by discerning travelers. Creating a connection to our rich Hawaiian culture, it is a place quite unlike any other…welcoming, yet exclusive…relaxing, yet invigorating…contemporary, yet steeped in timeless glamour.

Located on the picture-perfect Waikiki beachfront, the resort's Spanish-Moorish façade lies between a tropical garden oasis and the gentle waters of the Pacific. A sprawling collection of coconut grove gardens and intimate pools, replete with quiet alcoves and bubbling spas, await and just beyond, billowing cabanas invite your every indulgence poolside and oceanside, along with a cadre of attendants ready with frozen cocktails or a head-to-toe Evian spritz.

The Royal Hawaiian is an exclusive enclave of elegance and tranquility and each of the 528 guestrooms and suites encapsulates extraordinary accommodation experiences, effortlessly weaving modern comfort, indigenous accents, and refined luxury. In the Ocean Tower, each newly renovated room provides an intimate lanai for a private vantage point of the translucent Pacific Ocean.

As a testament to its rich history, the resort offers guests a complimentary tour of its historic royal grounds. Discover something new each day at The Royal Hawaiian, A Luxury Collection Resort and partake in various cultural activities such as hula lessons, hula therapy, coconut demonstration, ukulele lessons, lauhala basket making, Hawaiian quilting, lei making, and the oceanfront Luau. The resort also offers guests the opportunity to enjoy traditional ocean sporting activities such as surfing, outrigger canoeing, snorkeling expeditions, scuba diving, catamaran sailing, and dolphin encounters.

It has been said that The Royal Hawaiian, a Luxury Collection Resort is the place where the world first fell in love with Hawai'i. Now, 84 years later, following multimillion dollar renovations, a new romance has sparked. Come and discover the legend for what it was and what it is. Your piece of Paradise awaits.
Hotel Contact Information:
Street Address:
2259 Kalakaua Ave
Honolulu, HI 96815
Historic Hotels of America toll-free reservations number (800) 678-8946
The Jazz Age, 1919 ~ 1928
Timeless Waikiki Receive $50 Off Your Next Trip to Hawaii Use HistoricHotels.org to book a two-night stay or longer at The Royal Hawaiian, A Luxury Collection Resort or the Moana Surfrider, A Westin Resort & Spa and receive a $50 refund.
Learn more about the History of The Royal Hawaiian, A Luxury Collection Resort.