The Spa at Norwich Inn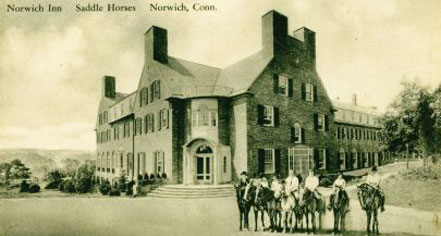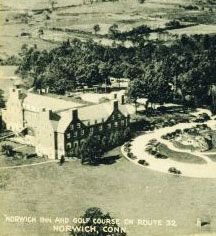 History
For over 75 years, The Spa at Norwich Inn has been a destination for discerning guests seeking luxury, comfort and tranquility in the Connecticut woods.

Built in 1930, the original Norwich Inn was a haven for the rich and famous of the day, drawing such luminaries as George Bernard Shaw, Charles Laughton, Frank Sinatra, and the Prince of Wales. The Inn benefited not only from its premium location, midway between New York and Boston in beautiful eastern Connecticut, but also from the word-of-mouth inspired by its architectural elegance and unrivaled surroundings. The classic Georgian Colonial revival structure, with its handsome front portico, door, and fanlight, included 75 guestrooms and boasted an expansive, rolling golf course.

The Inn changed hands several times in the years surrounding the Second World War, and eventually, a period of gradual decline set in. The fortunes of the hotel hit bottom when, having been purchased by the City of Norwich, the core structure was operated as a boardinghouse, while the basement was used as a holding tank for overflow prisoners from the police department. In 1983, the Edward J. Safdie Group recognized the Inn's potential and made an offer to purchase it. The group immediately set out to create a truly exceptional inn and spa facility, modeled after one of their most successful properties, the Sonoma Mission Inn and Spa in California.

Mr. Safdie commissioned a complete renovation of the inn, including all guestrooms and public spaces, and built a freestanding Spa building, creating a style for The Norwich Inn and Spa that was the epitome of glamour and beauty. The hotel soon attracted a new generation of celebrities, including Barbara Streisand, Joan Rivers, Michael Douglas, and a bevy of super models such as Cheryl Tiegs, Elle Macpherson and Rachel Hunter.

In 1994, the Mashantucket Pequot Tribal Nation purchased The Norwich Inn and Spa. Continuing the Safdie Group's precedent, the tribe instituted a forward-looking plan of expansion and improvement. Most significantly, in 2000 the tribe completed a $15 million renovation that doubled the size of the Spa, making it the largest spa on the East Coast at project completion. This renovation project also included the redecoration of the hotel's 100 guestrooms, in both the inn and the adjacent villas. To signify the importance of these changes, the renovation project concluded with the renaming of the facility as The Spa at Norwich Inn.

Today, The Spa at Norwich Inn is an intimate retreat and home to an elegant, full-service spa offering a blend of fitness programs, nutritional instruction and beauty and body treatments designed to restore and rejuvenate the mind, body and spirit. We continue to welcome the celebrities of the day - stars like Hilary Swank and Chris Rock - along with another generation of connoisseurs who come to be pampered, soothed, relaxed, and renewed in the privacy and peace of the Connecticut woods.