The Waldorf - Astoria Hotel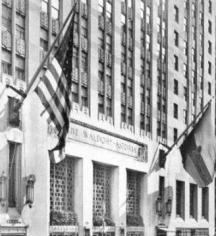 History
During its 100-year reign as the queen of hospitality and luxury in New York, The Waldorf - Astoria Hotel has maintained a status of legendary proportions. From visits by European crown princes, American oil barons and leading stage and screen personalities to glittering evening affairs where the cream of New York society was feted and entertained, the history of The Waldorf - Astoria Hotel is the heritage of a nation at its best. In 1896, when the original Waldorf was a mere three years old, Harper's Bazaar decreed it "the fashion of New York, the Mecca of visitors from many nations," and said that "nowhere else in the world has any hotel come to play so important a part in the social life of a great city."
In March 24, 1893, millionaire William Waldorf Astor opened the 13-story Waldorf Hotel on the site, which had formerly boasted his mansion, at Fifth Avenue at 33rd Street. Built by renowned architect Henry Hardenbergh, The Waldorf was the embodiment of Astor's vision of a grand hotel, complete with electricity throughout and private bathrooms in many guest chambers – two of a long list of Waldorf firsts.
Four years later, The Waldorf was joined by the 17-story Astoria Hotel, erected on an adjacent site by Waldorf's cousin, John Jacob Astor IV.
In 1929, after decades of hosting distinguished visitors from around the world, the original The Waldorf - Astoria Hotel closed to pave the way for a reincarnation 15 blocks north on Park Avenue. The current hotel opened on October 1, 1931 as the world's largest and tallest hotel, a veritable city-within-a-city. Today it remains one of the world's largest Art Deco buildings and The Waldorf - Astoria Hotel continues to be one of the city's most beloved – and utilized – institutions.