The Waldorf - Astoria Hotel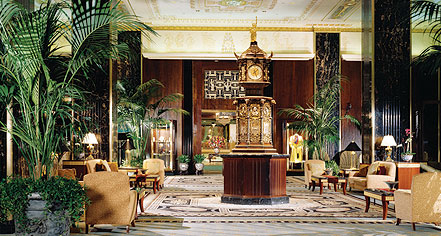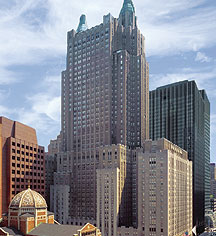 The Towers
Guests of The Waldorf Astoria looking for the most exclusive hotel in New York City will find that The Towers is the top of the line. Choose from an array of elegant suites at The Towers and enjoy the finest amenities, a private check-in lobby, and access to the Astoria Lounge on the 26th floor. Known as a "hotel with in a hotel," The Towers offer:
Exclusive Private Hotel Entrance
Daily Breakfast
Guerlain Spa Privileges
Twice-Daily Maid Service Including Nightly Turn Down
Towers Luxury Rooms
Boasting 275 - 415 sq ft of luxurious space, Luxury Rooms at The Towers include a separate sitting room, or an oversized main room that incorporates a sitting area, and a marble bathroom. As all The Waldorf Astoria Hotel accommodations, these rooms are richly decorated and furnished.
Towers Suites
One and two-bedroom Towers Suites feature a separate living room, wet bar with refrigerator, and a boudoir dressing area leading into a marble bathroom with a tub and shower. These suites are generally between 500 - 700 sq ft and the two bedrooms can be up to 1000sq ft. The two-bedroom suites also offer a choice of two king beds or one king and two double beds.
The Towers Penthouse Series features four prestigious suites:
The Penthouse
The Cole Porter Suite
The Presidential Suite
The Royal Suite
Starting from 1,800 square feet, these New York City suites offer at least two spacious bedrooms with king beds (each with its own marble bathroom). The suites feature some of the largest floor plans The Waldorf Astoria Hotel has to offer and are ideal for a number of different occasions: memorable personal milestones, small corporate retreats, and other elegant events. The Towers Penthouse Suites allow guests to play host and entertain guests of their own. These suites include a full kitchen and dining room with seating for 8-12 guests.
Each named and best known for their legendary former residents, these prestigious suites offer Grand entry foyer where guests can experience a memorable entrance where they can step back in time to another era. It is best to drink in the history and tickle the ivories in the Cole Porter Suite gingerly while thinking of all the creative energy that must have been left hanging like a thick fog after he moved out.
The Historic Suites
Reminiscent of pied-à-terres, Historic Suites were once used by the Hollywood glitterati and historic icons like Winston Churchill. These suites range from 1600 -2000 sq ft and include a marble bath and powder room.