Abraham Lincoln Reading Hotel
Reading, Pennsylvania
Web Only Rate non-refundable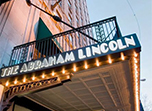 Web only rate, rate is non-refundable. Entire stay will be charged the day of booking.
TERMS & CONDITIONS
Rate is Non Refundable. Entire Stay will be charge at the time of booking. Full deposit by Credit Card required at time of booking. Additional terms and conditions may apply
There are no special offers currently available.