Fairmont Heritage Place, Ghirardelli Square
San Francisco, California
Family Fun Package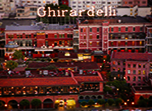 Book the Family Fun Package and explore the City by the Bay.
INCLUDED
Overnight accommodations
Two adult CityPass vouchers (value of $86 per adult)
Two kids' CityPass vouchers (value of $64 per child)
Two kids backpacks, each containing a water bottle for the journey
City Walks San Francisco Tour Cards: 50 Adventures on Foot
10 San Francisco postcards for the kids
POLICIES
Deposit required using American Express, Discover, MasterCard, or Visa credit card. Cancellation and prepayment policies vary according to room type and time of year. Offer is subject to availability and blackout periods. Other terms and conditions may apply.
There are no special offers currently available.