Hilton Fort Worth
Fort Worth, Texas
JFK 6th Floor Museum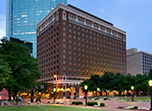 A Moment in Time * A Place in History
The Hilton Fort Worth is the former Hotel Texas, where President Kennedy and the First Lady stayed on November 21, 1963. The next morning, after a speech in the hotel's ballroom, the President's motorcade departed, taking with it the final moments of a more innocent America. Above is our hotel's Point of Distinction, separating us from all the rest. Purchase our package and gain entrance to the Six Floor Museum at Dealey Plaza in Dallas, Texas to examine the life, death, times and legacy of President John F. Kennedy.

Our special package includes:
Overnight accommodations
Valet parking
Hilton Breakfast Buffet for two adults
Commemorative John F. Kennedy Pin Train pass to Dallas, the TRE train station is within walking distance to the hotel. (Train does not run on Sundays)
Admission for two adults to the Sixth Floor Museum
When you stay at our hotel in Fort Worth, you will discover that we are close to many fun things to do in Fort Worth, Texas such as Billy Bob's and the Stockyards, the Fort Worth Zoo, Six Flags, Texas Motor Speedway, numerous downtown museums and many other area attractions that have helped put Fort Worth on the map.Our hotel in Fort Worth, Texas will exceed your expectations for service and accommodations.
There is a 72-hour advance reservation requirement in order to purchase this package and a three-night maximum stay. Valid Monday - Friday nights. Package is based upon availability.
BLACKOUT DAYS
Offer is unavailable during the following days:
Saturday, Sunday
There are no special offers currently available.