Hotel Brexton
Baltimore, Maryland
Book Ahead to the Past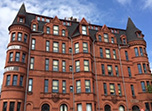 In Honor of Hotel Brexton's "past" opening in 1881 - the hotel is pleased to offer a special discount of $18.81 off per night when reservations are booked at least 10 days "Ahead"!
TERMS & CONDITIONS
Cancel by 3 p.m.-EST 48 hours prior to arrival in order to avoid a charge equivalent to one (1) night's accommodation. Must guarantee reservation with credit card. Additional policies may apply.
There are no special offers currently available.