Kings Courtyard Inn
Charleston, South Carolina
Pet-Friendly Policy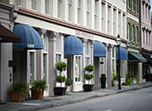 Contact the hotel directly to confirm a pet-friendly room.
Amenities: Included in Puppy Package.
Services: Puppy Package.
Restrictions: Dogs and Cats Only. Maximum weight: 25 lbs. Maximum amount: 1 pet per room (more if preapproved).
Fees: $25 per night.
Other: Pet reservations must be made directly through hotel.
There are no special offers currently available.