La Fonda
Santa Fe, New Mexico
Meow Wolf Package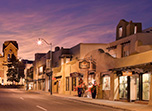 20% Discount off the best available rate. Kids under 17 eat breakfast free, stay and play free with this package. Bring your kids to Santa Fe, stay at La Fonda and create your own path inside the most exciting explorative art adventure ever to hit Santa Fe!
Part haunted house, part jungle gym, it's 20,000 square feet of giant artwork that you can step inside of and play by walking, climbing, and crawling through an imaginative series of unexpected environments. Beyond description, this adventure must be experienced live and in person
There are no special offers currently available.