Napa River Inn
Napa, California
Napa Valley Film Festival 2016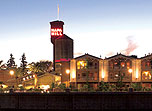 Special package available during the Napa Valley Film Festival, November 9-13, 2016. Package includes 3 night stay, 25% spa credit, in-room breakfast, free parking, and WiFi. Also, save $50 off Film Festival Passes.
TERMS & CONDITIONS
Cancel 72 hours prior to arrival to receive a refund of the 1st nights room and tax deposit. One night's Room and Tax will be charged at time of booking. Additional policies may apply.
There are no special offers currently available.