Safety Harbor Resort & Spa
Safety Harbor, Florida
The Baybreeze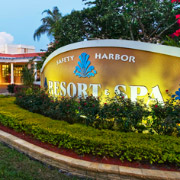 Includes spacious guestroom, breakfast buffet choice of one per person per day, 25 minute spa massage, 25 minute spa facial, express manicure and pedicure, herbal wrap or aroma hydro bath plus, access to the 50,000 sq. ft. spa and fitness center, including the spa sanctuary and tranquility garden, all regularly scheduled fitness classes, pools, saunas, steam rooms and whirlpools.
*Rate is based on availability and is subject to change valid for 1 adult, additional adult charges apply. Rate does not include applicable taxes. Resort amenity fee includes wireless internet access unlimited access to cardiovascular
$16 resort fee not included in rate. No min stay required.
There are no special offers currently available.