The Craddock Terry Hotel
Lynchburg, Virginia
Explore Lynchburg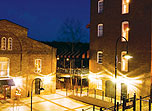 Step into history and discover some of Lynchburg's most significant and historic places with a stay at The Craddock Terry Hotel.
This package includes:
One night stay for two in deluxe or premium accommodations
Bottle of one of Virginia's finest wines
Two combination tickets including admission to:

Point of Honor, where legends of duels and a time of elegance were created
Lynchburg Museum, where the history of Lynchburg is chronicled by exhibits in the Old Court House

Two adult tickets to the new Museum of the Confederacy located in Appomattox
Two complimentary continental breakfasts delivered to the room in the morning
Subject to availability.
There are no special offers currently available.