The Gettysburg Hotel, Est.1797
Gettysburg, Pennsylvania
A Ghostly Encounter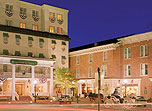 Believe in ghosts? Spend an enchanted evening in traditional spirited accommodations brimming with mystique and enjoy a unique Gettysburg ghost tour through Gettysburg's most haunted sites, conducted by Gettysburg's most renowned ghost hunters!
INCLUDED
Luxurious accommodations
Gettysburg Ghost Tour through Gettysburg's most haunted sites
Dinner and breakfast for two at One Lincoln
Signed copy of Ghosts of Gettysburg by the Dean of Gettysburg's Ghost Historians, Mr. Mark Nesbitt
TERMS & CONDITIONS
Ghost tours are conducted outdoors in all weather. The tours last about an hour, and are approximately a mile of walking on both paved and unpaved surfaces at dusk or in the dark; so please dress and plan accordingly. A voucher will be provided upon check in allowing guests to reserve the tour during their stay. Additional terms and conditions may apply.
There are no special offers currently available.