The Lenox
Boston, Massachusetts
Hypo-Allergenic Room Package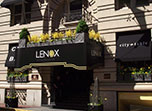 A breath of fresh air... Upon entering a Hypo-Allergenic Room, the first thing you will notice is the unique clean-air environment. The Lenox provides state-of-the-art air purification providing guests with a peaceful assurance that they will enjoy a perfect nights rest. ...it's only natural. Hypo-Allergenic room package includes an upgrade to a allergy friendly room.
Cancellation is one day prior to arrival (3pm) to avoid a penalty
Credit Card guarantee taken at time of booking
Additional policies may apply.
There are no special offers currently available.