The Mimslyn Inn
Luray, Virginia
Breathe In, Breathe Out, and Relax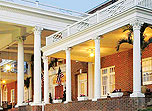 Unwind with a spa stay in the new Seasons Spa. Choose from a large menu of relaxing services – hot stone massage, full body wrap, or deep cleansing facial.
INCLUDED
AccommodationsComplimentary Breakfast each Morning
$170 Spa Service Certificate
$75 Voucher for Circa '31 or Speakeasy
TERMS & CONDITIONS
Friday and Saturday 48 hour cancel. Sunday- Thursday 24 hour cancellation. Cottages require 7 day cancellation by 4 p.m. EST. All reservations must be guaranteed with a valid credit card. Additional policies may apply.
There are no special offers currently available.