The Raleigh Miami Beach
Miami Beach, Florida
Double Miles Offer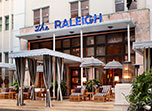 Earn double miles with one of our participating airlines. Minimum two night stay required.
Miles are awarded per stay. Guests must present their Frequent Flyer card at the time of check-in.

Policies
Cancel 72 hours prior to arrival to avoid one night room plus tax
Credit Card Guarantee at time of booking
There are no special offers currently available.