The Raleigh Miami Beach
Miami Beach, Florida
Preferred Family Exclusive Package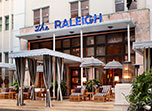 Preferred Family Exclusive includes Continental Breakfast for up to four people, 50% off overnight valet parking nightly, and complimentary 3:00 p.m. late check out based on availability.
Policies: cancel 72 hours prior to arrival to avoid one night room plus tax. Credit card guarantee required at time of booking
There are no special offers currently available.